How It Works
Gummies with Better Benefits
Our unique antioxidant compound is backed by a double-blind, peer-reviewed clinical trial involving 119 people shown to help promote normal blood pressure nearly 2x more effectively than a healthy lifestyle alone. The science is clear – it works.*
Circulation Gummies were expertly formulated to give you 150mg French Grape Seed extract and an added 500mg boost of non-GMO Beet Root Powder. We never use synthetic colors, artificial flavors, or artificial preservatives in our products, and our gummies are pectin-based, making them a vegan delight.
Each gummy is made right here in the USA in a GMP (Good Manufacturing Practices) facility. The unique grapes that power each gummy's incredible benefits are purposefully sourced from the Loire Valley in France, whose unique geographical profile grows the most antioxidant-rich grapes on Earth that help increase Nitric Oxide production.
Heart Healthy Energy & Blood Pressure Support Starts with Circulation
Circulation is truly your life force. It carries oxygen and nutrients to your tissues, and ferries carbon dioxide (CO2) and waste products away from them. Your body works hard to support this balance, but factors such as age, stress, and lifestyle can derail it. The clinically researched Grape Seed Extract in Circulation Gummies helps supports healthy blood pressure and increased energy levels by helping increase Nitric Oxide production in your body.
Key Ingredients
Pomegranate Berry Flavor
500 mg Beet Root Powders | 150 mg Grape Seed Extract
Maltitol Syrup, Xylitol, Erythritol, Pectin, Citric Acid, Sodium Citrate, Natural flavors, Monk Fruit Extract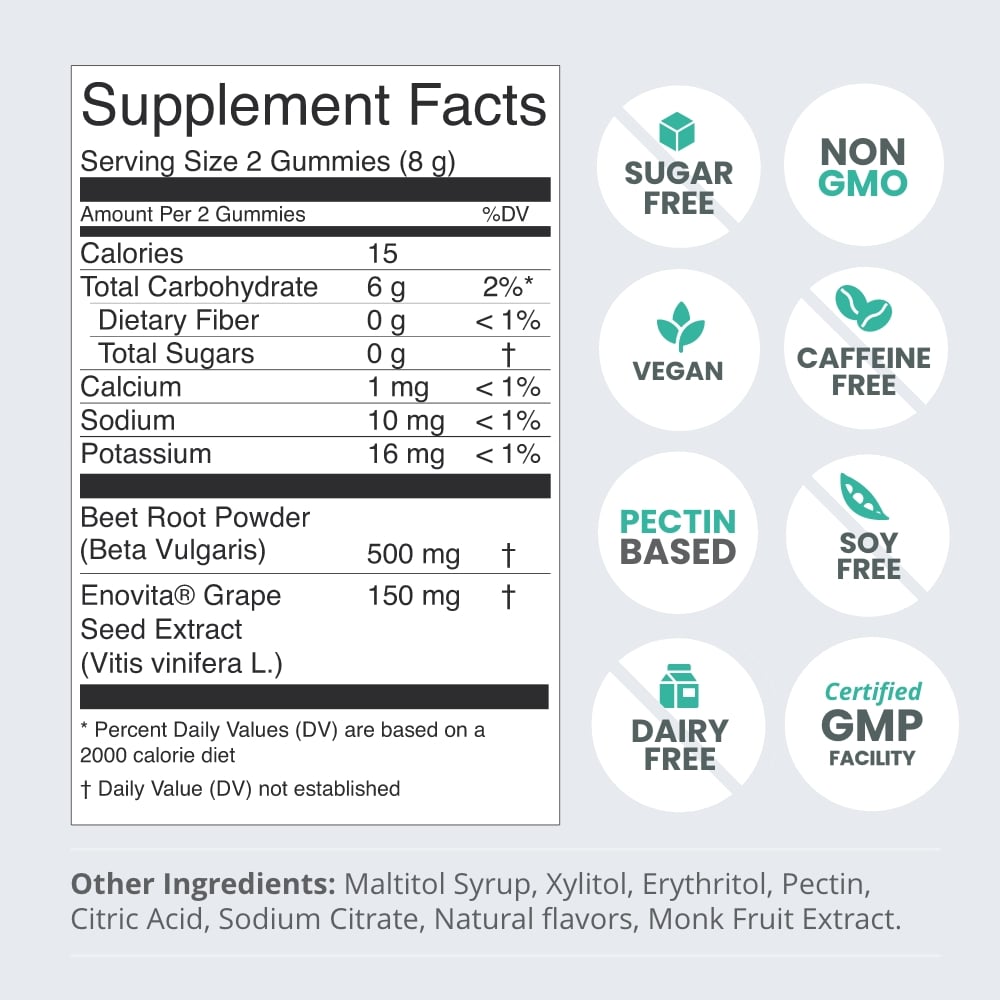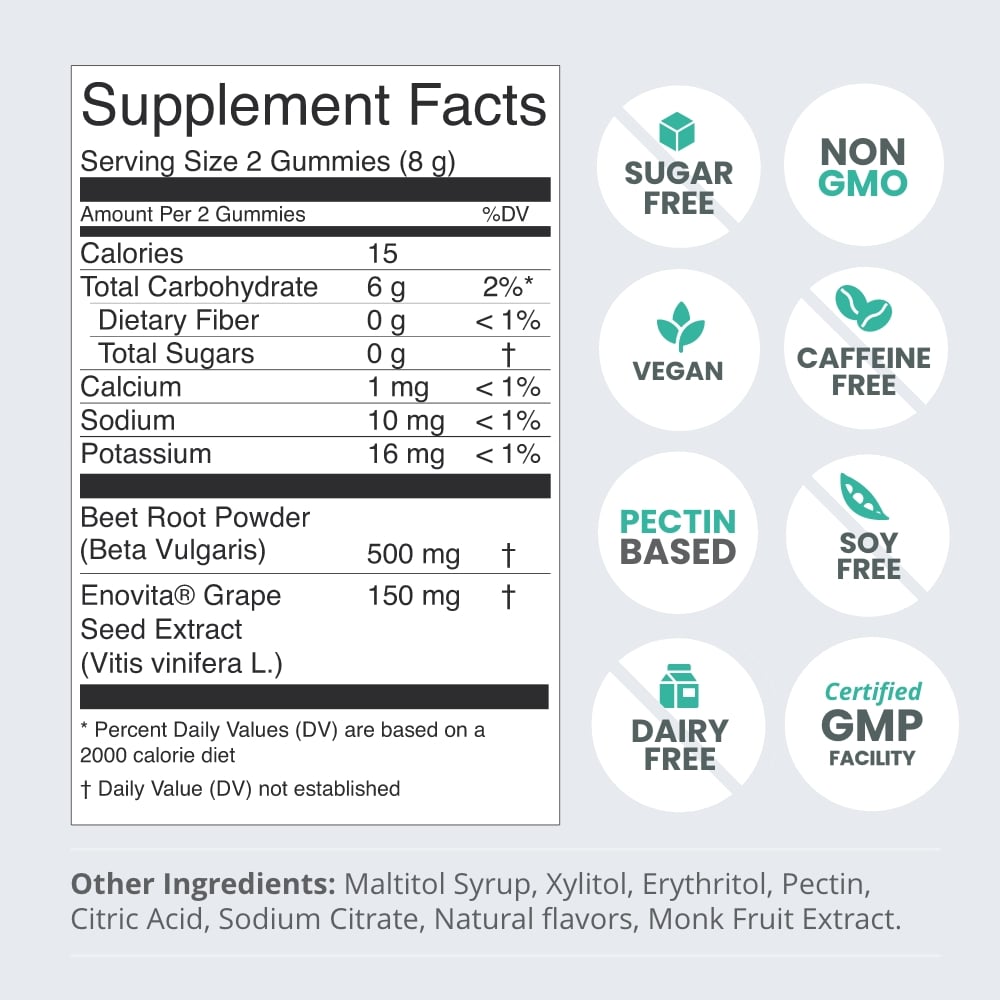 Clinically Researched Blood Pressure Support You Can Trust
The unique antioxidant compound in Circulation Gummies is clinically shown to help promote normal blood pressure nearly 2X more effectively than a healthy lifestyle alone.*
The secret? It's all about absorption. Enovita® Grape Seed Extract is standardized to 95% proanthocyanidins, the most beneficial & absorbable polyphenols found in these tiny seeds. Just 2 gummies deliver 150mg of this circulation superfood that helps increase endothelial Nitric Oxide synthase (eNOS) activity and Nitric Oxide production.
The first gummy from the leaders in Nitric Oxide research
Here's the truth: most supplement companies pretend to be serious about Nitric Oxide science. Circulation Gummies were formulated based on the Nitric Oxide expertise of a company that has a world-class science advisory board, led by a Nobel Laureate who won the Nobel Prize for Nitric Oxide discovery in 1998. No one else comes close - we approach blood flow science in exacting, results-oriented terms so it works best for you. So while others create lesser-than formulas based loosely on science, HumanN is the science. Why go anywhere else?
Our 100% Satisfaction Guarantee
Try it risk-free for 90 days and see how you feel. If you don't absolutely love it, you may return your product to us for a full refund of the purchase price, minus shipping and handling. No questions asked.
Frequently Asked Questions