Every January, we watch closely as the U.S. News & World Report releases their comprehensive rankings of what they consider to be the top diets of the year based on seven factors, which include weight loss, heart health, and ease of compliance. 
This year, all three of the top diets rely heavily on making plant-based choices, which probably doesn't come as a surprise if you've followed along for the past few years. 
It is mostly common sense to most of us by now that eating more plants is healthy for you. But do you know why? 
One critical reason that plants are so beneficial for your health are compounds called polyphenols, naturally found in all plant-based foods.
The antioxidant power of polyphenols contributes to a wide array of health benefits, including: 
Most people fail to get enough polyphenols, but choosing to follow one of these diets might help you get the plant-based nutrition you need to thrive. Let's take a look at the top 3 diets and how polyphenols fit into each. 
The Mediterranean Diet (#1 for the third year in a row)
What is it?
The Mediterranean diet is a plan based on the lifestyles of those living along the shores of the Meditteranean Sea, in efforts to replicate the longevity that those populations enjoy. 
There are no strict guidelines and rules for this diet, but there are guidelines as to which food groups to enjoy in generous, moderate, and slim amounts outlined on the Mediterranean Diet Food pyramid.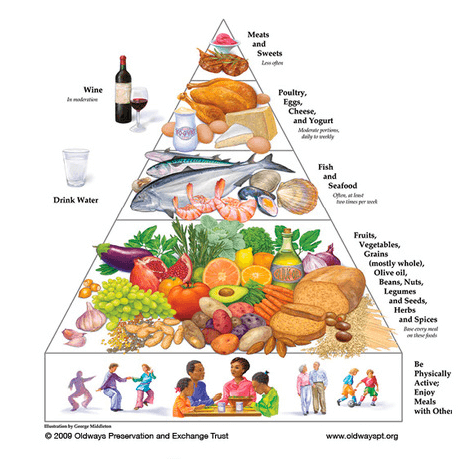 What do you eat?
The foundation of the Mediterranean diet is a focus on lifestyle, which encourages frequent movement and activity, as well as communal eating with others. 
As far as food goes, the essential foods to incorporate into each meal are all plant-based: fruits, vegetables, whole grains, olive oil, beans, nuts, legumes and seeds, herbs and spices. 
The primary protein source encouraged by the Meditteranean diet is to eat fish and seafood often, followed by poultry and dairy enjoyed less frequently. 
No food is necessarily off-limits as part of the Meditteranean diet, though red meat and sweets should be eaten sparingly. 
And cheers! You can enjoy red wine in moderation on the Meditteranean diet. 
How do polyphenols play a role?
When you think of the Meditteranean diet you may think of olives, grapes, walnuts, artichokes, and wine.
All of those foods are extremely rich in polyphenols, which is one reason that following a Mediterranean diet has such promising benefits for health. 
While the Meditteranean diet can be more convenient than other diets, it is still not always easy to eat the recommended amount of daily fruits and vegetables. 
But the good news is that there are now ways to extract the polyphenol compounds from these common Meditteranean diet staples, like grapes, to fill in the gap. 
The DASH Diet (Tied for #2)
What is it?
DASH stands for dietary approaches to help deal with hypertension, so if you're someone who is looking to help your blood pressure out through diet, DASH might be for you. 
It's promoted by the National Heart, Lung, and Blood Institute to do what it says: help you prevent and counteract hypertension. 
The plan is provided for free to make it easy to get started. You can get the full details on the DASH diet here or get a summarized, 6-page version here. 
What do you eat? 
You probably already guessed it: fruits and vegetables in large quantities, plus generous quantities of whole grains, nuts, seeds, and legumes. 
This diet is similar to the Meditteranean diet, except that it recommends eating fats and oils sparingly, while the Meditteranean diet allows for more liberal portions of polyunsaturated fats like olive oil. 
How do polyphenols play a role? 
Your first thought might be that the DASH diet is simply promoting heart health through weight loss, but that doesn't give the full story.
Studies show that plant polyphenols play a role in protecting the body against the development of certain diseases, including cardiovascular disease. 
So it's not surprising that a diet primarily promoting healthy blood pressure encourages incorporating more fruits and vegetables into one's diet as the primary focus of the plan. 
Eating more polyphenols is good for your heart and your health, whether accompanied by weight loss or not. 
The Flexitarian Diet (Tied for #2) 
What is it?
Although listed third, the Flexitarian Diet ties for second place next to the DASH diet in this year's rankings of best diets.
It's a flexible vegetarian diet that encourages mostly plant-based eating, with room for the occasional indulgence in meat a rare treat. 
The plan is flexible and easy to follow, along with claiming that cutting back on red meat will aid in weight loss and overall health. 
What do you eat?
The Flexitarian diet works by adding five food groups to your existing diet, as outlined in the diet's five-week meal plan.
The "new meat" (non-meat proteins like beans, peas or eggs)

Fruits and veggies

Whole grains 

Dairy

Sugar and spice
The basic premise is to eat more plants and eat less meat. 
How do polyphenols play a role? 
Once again, a plant-based diet is in the lead as one of the healthiest diets of the year. 
By switching your focus to more plants, you'll naturally be getting more heart-healthy, antioxidant-rich polyphenols in your daily diet. 
The basic premise is this: the more plants you eat, the more health benefits you'll enjoy. 
Plants and Polyphenols: A Common Thread
All three diets of the top diets of 2020 share a very obvious common thread: eat more plant-based foods, not just for your waistline, but for your overall health and longevity. 
Whether or not you end up wanting to follow one of these specific diets this year is up to you, but it is impossible to ignore that getting more plants, and their polyphenols, into your diet is a no-brainer for a healthy body and lifestyle. 
When Diets Fall Short: Supplementing with Polyphenol-Rich Grape Seed Extract 
Ideally, we all want to be eating more vegetables. 
But even people who are following one of these plant-heavy diets may have days when they aren't getting enough polyphenols to reap the heart-health, antioxidant and overall benefits. 
That's why it is such a privilege that today we are able to extract rich polyphenol compounds from one of the most coveted Meditterean diet staples in the form of grape seed extract. 
Now you can get health benefits of polyphenols even on days when your diet isn't perfect. 
Supplementing with grape seed extract in a clinically-researched amount is shown to: 
Help protect against oxidative stress and damage

Help promote normal blood pressure as part of a healthy lifestyle

Support circulation

Support heart health
Both SuperGrapes Chews and SuperBeets Soft Chews contain the clinically-researched amount of grape seed extract for the benefits listed above, and are the perfect complement to any of the top diets of 2020, or simply a healthy lifestyle. HumanN offers many plant-based products. Check out all our products here.