We followed competitive athlete Monica Brant around for a week to get a glimpse into her healthy lifestyle and see how she incorporates SuperBeets Collagen into her everyday routine.  See what she had to say.
Collagen is a primary, structural protein of our skin, tendons, bones, cartilage, and all other connective tissues. It is also found widespread in the gelatinous substances of the body to provide stiffening properties. In other words, collagen is the natural protein that constitutes most of the body's structural support and is the primary substance of connective tissue—some even call it the 'GLUE' of our body!
Collagen gives to different organs and tissues their strength and elastic properties. It is said that 25% of the protein weight in the human body and 75% of our skin are made of collagen. It is also part of the natural composition of our tendons, ligaments, joints, muscles, hair, skin, and vital organs. Besides its numerous structural properties, collagen serves as a main catalyst for growth and it repairs almost all the tissues of the body.
The unfortunate reality is that production of collagen in the body slows down insidiously with age. It starts slowing down around thirty and decreases abruptly around fifty. A lack of collagen, or the inability to use it properly in our body may cause early signs of aging.
As of late, collagen has made a huge splash in the health and fitness industry as one of the frontrunners of proteins to ingest- if not the most important to some gurus.
There are many sources of collagen on the market and it is my understanding that the best form is bovine, and I was happy to find out that Humann's newest beet product, SuperBeets Collagen,  features collagen peptides from grass fed & pasture raised cows. Yay!!
Check out my daily journal of how I incorporated SuperBeets Collagen into my routine. I can't say that I am a 'foodie' or gourmet chef, so I kept my mixtures as simple as possible.  
Hopefully these will be helpful insights for those of you looking to incorporate more collagen into your diet.
Day 1
I am heading to the track for one of my favorite training routines …sprints! I typically use BeetElite prior, so I chose to add a serving of SuperBeets Collagen and the combination tasted great! BeetElite has a superior taste already, but mixing SuperBeets Collagen was a nice change-up.
I felt strong during my training and had plenty of energy!
Day 2
Today I chose to have my SuperBeets Collagen along with Dairy Free Cashewgurt for a healthy non-dairy snack. The flavor wasn't too sweet, and the texture was smooth after mixing.
Most of us understand how important it is to have a healthy digestive tract.  This yogurt substitute is plant-based, creamy, full of probiotics, certified organic, non-GMO, kosher and free of lactose, gluten and soy. Mixed with the benefits of beets and collagen through SuperBeets Collagen – it's a winner!!!!
Day 3
Heading out the door for some errands and to pick up my Goddaughter from high school (she is living with us for school purposes- she is in 9th grade this year!) so I made this quick mixture of SuperBeets Collagen along with this Apple Cider Vinegar mix I found from The Republic of Tea.
It tastes terrific and mixed very well as usual.
I've been using Apple Cider Vinegar for the last 4-5 years and I have to admit sometimes it's hard to get excited about taking a shot of it… even though I am excited about the health benefits.
Finding this mixture has been a very welcomed change and the combo with SuperBeets Collagen was FANTASTIC!
Day 4
I am looking for an interesting snack that has a 'crunch' today and decided to make a bowl of 'cereal'. I've been in love with this lite organic oat mixture Qi'a Creamy Coconut Superfood so I chose to add SuperBeets Collagen and was delighted by the tasty mixture. Sometimes we must give ourselves the opportunity to step out of the norm and try something different – beets and oats?…
Adding the egg whites didn't change any taste, as it takes on whatever flavor it is mixed with and I have to say it quenched my desire for crunch and I felt satisfied.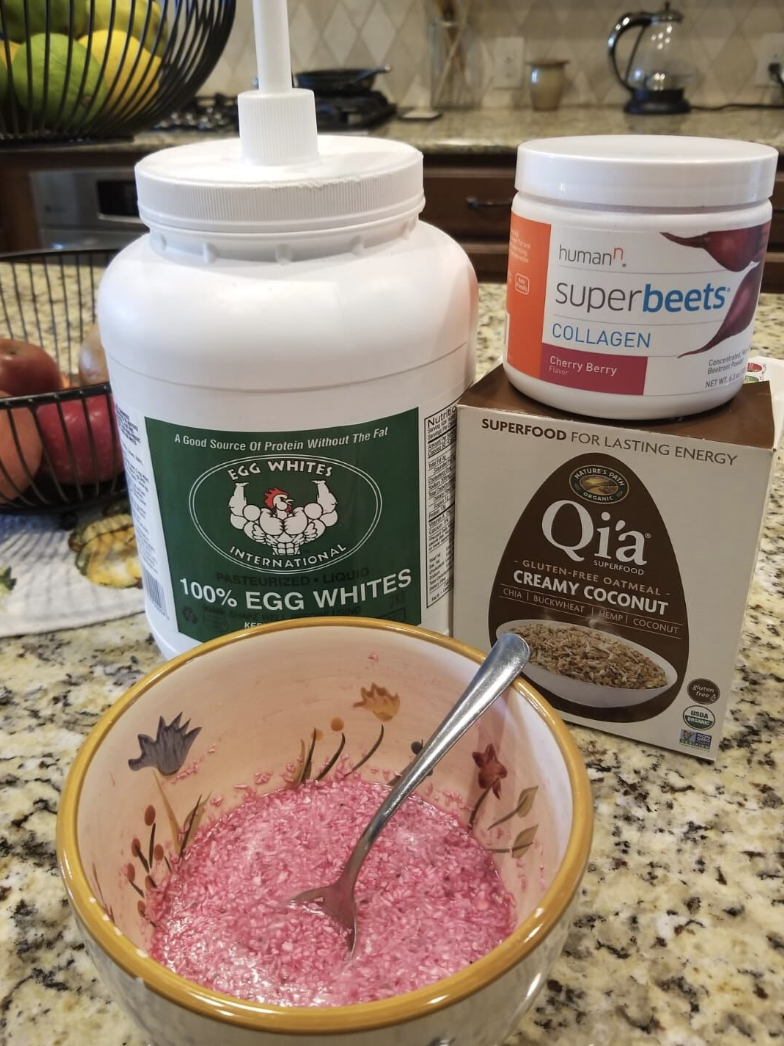 Day 5
I enlisted my friend, Brooke, for this recipe since we were making dinner this evening at my home.
I decided a 'fatty salad' was going to be in the dinner plans and used SuperBeets Collagen for the dressing, mixing ACV, Organic EVOO, balsamic vinegar (special brand I found while traveling to Italy and I have it shipped) and a serving of SuperBeets Collagen.
The salad consisted of Greens mixture (cut up for easier eating), cucumbers, cherry tomatoes, chopped tri-colored peppers, organic Sprouted Grains & Super Seeds mixture.
Do I even need to say that this salad was a hit?? It was devoured by all of us at dinner and the dressing really had a marvelous flavor.
Day 6
Today I took a serving of BeetElite and SuperBeets Collagen before training….just combine a small amount of water and serving of each. I felt energized and clear-headed for my 45 min session.
Day 7 
Well, it's the last day of my week finding creative ways to use SuperBeets Collagen.. and I'm just like most people and enjoy a little dessert from time to time. As a true and faithful Texan, we have Blue Bell Ice-cream in our freezer (here's some Tx trivia for you:Blue Bell was founded in Texas in 1907!) and decided that mixing a serving with ½-1 cup ice cream was the route to go…
I added organic blackberries and this new non-dairy Reddi Wip made with Coconut Milk.  Honestly, I do not enjoy a strong cherry flavor all that much so adding the blackberries softened the cherry flavor and I must admit it was delicious!! Plus, I didn't feel guilty! Yes, I am sure I could have had a non-dairy vanilla dessert instead of the Blue Bell ice cream, but that's what was in the freezer for our teenaged Goddaughter… and my Dad when he comes over.
I've been using HumanN's products for 3.5 years and am excited to be involved with such a reputable company that takes extreme care to bring me (and all customers/athletes) superior products. My understanding is that the premium, non-GMO beetroot powder used in SuperBeets Collagen , as well as the other beet products in the line, are not easy to cultivate or transport. But I also know that this TX grown company is very focused on formulating only the best products and doing whatever it takes to bring them to us for our best health!
It's great to know I am using a top product that can have such healthy benefits for my entire body both inside and out!
SuperBeets Collagen is also Non-GMO, Dairy Free, Gluten Free, and Soy Free. Hopefully you find this helpful and that it gives you some ideas for incorporating collagen into your daily routine.
Stay Fit & Love Life!